Yokel
Yokel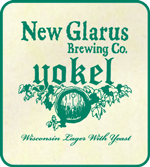 Savor this creamy headed pint at your favorite escape. Here's to cards on the table, a jukebox chewing coins, chalk on your cue and your favorite brew washing down the perfect burger.
This is a whole beer straight from the tanks smooth unfiltered and without pretense. Wisconsin barleys and the finest Bavarian hops and malts combine in classic German brewing methods. You are holding the freshest possible Wisconsin beer.
Expect this beer to be comfortable, crisp and slightly cloudy. Enjoy our salute to every guy who finished his game and left the kids' quarters on the table. Remember Buy Local, Drink Yokel.
Style:
Bottle Conditioned Lager
Flavor:
Easy drinking, traditional lager
Pairing:

Foods:

Meat Pot Pies
BBQ Chicken


Cheeses:

Havarti
Muenster

Dessert:

Apple Pie